Competencies

Publishing activities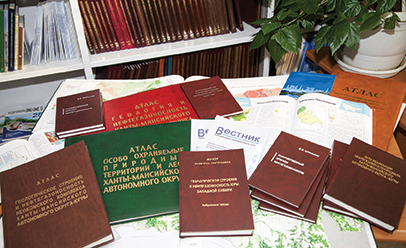 √ The publication of books of the conference reports «Way of realization of oil and gas potential of KhMAO – Yugra» in which issues of geology and development of oil and gas fields of the Оkrug are considered, the most relevant problems of the subsoil development are solved. At the beginning of 2020 about 2000 reports in books of 24 conferences were published. The following books: «Development of oil fields of Khanty-Mansiysk Autonomous Okrug», «Macrostructure of Berriasian-Aptian sediments in West Siberia and its implications in development of information technologies in oil and gas geology» by V.F. Grishkevich, «Quantitave forecast of oil and gas potential» by V.I. Shpilman, «Analysis of oil reserves» by F.Z. Khafizov, «Geological structure and oil and gas potential the Western Siberian Jurassic Period» by A.G. Mukher were released.
√ Annual reports on the state of the subsoil use in the Оkrug for oil companies up to 300 pages and confidential reports for the Resources Management System, up to 1000 pages.
√ Since 1999 the Centre for the rational use of the subsoil has been publishing the journal «Subsoil user herald», in which materials on the most relevant issues of geology, geophysics, ecology, exploration and development of the territory of West Siberia, KhMAO – Yugra are published. Since 1999 30 issues have been published.
√ In addition to editing and proofreading design, desktop publishing, image processing, publication pre-press, preparation of materials for various publications in the media are carried out.
√ The website of the Centre which provides up-to-date information on the status of the subsoil use in the KhMAO–Yugra and activities of the Centre for the rational use of the subsoil was created and has the current status.
Read the publications of the Centre
Contact person Simon Olga Anatolyevna: ☎ (3452)40-58-73, ✉ info@crru.ru.
Scientific and practical activity

Regional studies and feasibility of geological
exploration activities at the territory of
Khanty-Mansiysk Autonomous Okrug – Yugra
Subsoil licensing
Monitoring of resource base
Directions of the theoretical and practical activities of the oilfield development monitoring department
Collection, storage and study of core material
Commercial reserves estimation
Economic monitoring of the oil and gas fields development
The analysis of natural resources use state
The analysis of the industrial infrastructure systems development
Mathematical modeling of geological objects
Development and running the integrated database of the Centre
Design of software and information processing systems
Geological and other subsoil information fund
Computer simulation for oil-and-gas bearing systems
Other competencies

Geoportal YUGRA

Cartographical production

Geoportal YUGRA
Cartographical production

Publishing activities

Conferences

Publishing activities

Conferences

Seminars

Seminars