Competencie
Scientific and practical activity


Other fields of work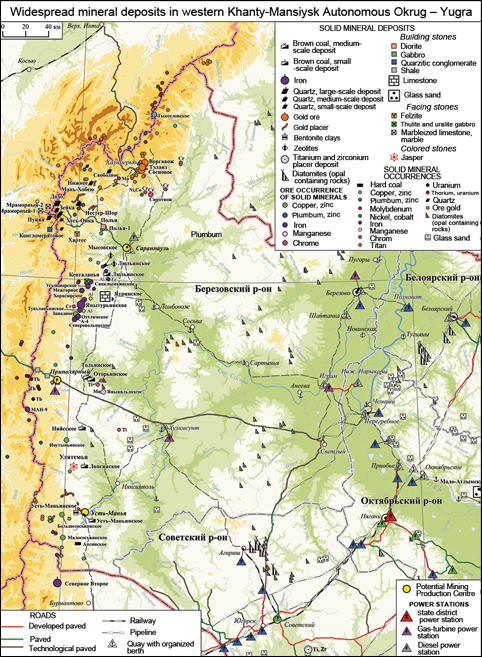 MONITORING OF THE SUBSOIL USE OF COMMON AND SOLID MINERALS
√ Fulfillment of the state task order for the purpose of the information and analytical support of government authorities of KhMAO – Yugra.
√ Information and analytical maintenance of the provision of state services on the licensing of subsoil areas, carrying out of reserve inspection, preparation of deposit development project and other documents as well as the approval of norms of extraction losses for common minerals.
√ The reserve balance of deposits and occurrence of common minerals is made for the recording of the mineral resources base of common minerals resources of the Okrug.
√ In relation to solid minerals the analysis of the performance of geological exploration activities, preparation of suggestions on the regional geological subsoil study and development of the Subpolar Urals. The database on solid mineral resources is maintained.
PROJECT PREPARATION OF SUBSOIL LICENSING OF THE GROUND WATER
The field of work provides the activities of the Subsurface Resources Management and Natural Resources Department of Khanty-Mansiysk Autonomous Okrug-Yugra:
• preparation of projects of Terms of the subsoil use for geological exploration and groundwater extraction including during reissuing of licenses, projects of additions to existing licenses;
• collection, generalization and analysis of records provided be subsoil users every year (statistical reports 4-ЛС, reports on the fulfillment of terms on the subsoil use and so on);
• preparation of expert analyses on reports on the evaluation of groundwater reserves on subsoil areas of local character;
• preparation of conclusions on the possibility of the harmonizing of the schemes of water consumption and water removal;
• maintenance of a cartographic database of subsoil areas of local character, provided for the groundwater extraction;
• consulting work.
Contact person – Alenichev Sergey Nikolaevich:
☎ (3467)35-33-01, ✉ AlenichevSN@nacrn.hmao.ru
Scientific and practical activity

Regional studies and feasibility of geological
exploration activities at the territory of
Khanty-Mansiysk Autonomous Okrug – Yugra
Subsoil licensing
Monitoring of resource base
Directions of the theoretical and practical activities of the oilfield development monitoring department
Collection, storage and study of core material
Commercial reserves estimation
Economic monitoring of the oil and gas fields development
The analysis of natural resources use state
The analysis of the industrial infrastructure systems development
Mathematical modeling of geological objects
Development and running the integrated database of the Centre
Design of software and information processing systems
Geological and other subsoil information fund
Computer simulation for oil-and-gas bearing systems

Other competencies

Geoportal YUGRA

Cartographical production

Geoportal YUGRA
Cartographical production

Publishing activities

Conferences

Publishing activities
Conferences

Seminars

Seminars