Competencies
Scientific and practical activity

Economic monitoring of the oil and gas fields development

BASIC FIELDS OF WORK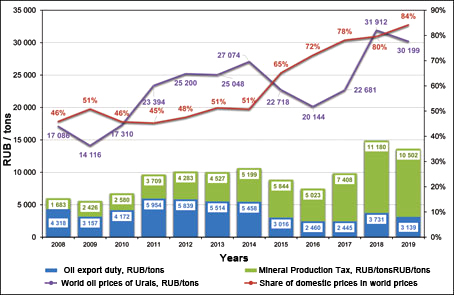 – Geological and economic evaluation of oil and gas fields.
– Evaluation of economic efficiency of investment projects of oil and gas field development.
– Gathering and systematization of the information related to the norms of current expenditures and capital investments in the oil and gas fields.
– Assessment of tax expense of the Khanty-Mansiysk Autonomous Okrug.
– Yugra in accordance with the procedure approved by Resolution of the Government of the Autonomous Okrug dated 18.10.2019 № 394-p
– Monitoring of the activities of subsoil users in the «pilot» subsoil areas of the Khanty-Mansiysk Autonomous Okrug – Yugra, which are taxed on additional income from hydrocarbon production.
– Determination of the minimum (starting) amount of one-time payment for subsoil use when preparing the conditions for holding tenders or auctions for the right to use subsoil areas containing minerals.
– Preparation of suggestions on stimulation tax legislation in the field of mineral production.
Realizing basic fields of work the Autonomous Institution «V.I. Shpilman Research and Analytical Centre for the Rational Use of the Subsoil» cooperates with federal and territorial authorities, oil and gas companies and geological-prospecting companies, research and design institutes, higher education institutes.
Head – Zakharchenko Nikolay Nikolaevich: ☎ (3452)40-23-38, ✉ zaharchenko@crru.ru.
Scientific and practical activity

Regional studies and feasibility of geological
exploration activities at the territory of
Khanty-Mansiysk Autonomous Okrug – Yugra
Subsoil licensing
Monitoring of resource base
Directions of the theoretical and practical activities of the oilfield development monitoring department
Collection, storage and study of core material
Commercial reserves estimation

Economic monitoring of the oil and gas fields development

The analysis of natural resources use state
The analysis of the industrial infrastructure systems development
Mathematical modeling of geological objects
Development and running the integrated database of the Centre
Design of software and information processing systems
Geological and other subsoil information fund
Computer simulation for oil-and-gas bearing systems
Other competencies

Geoportal YUGRA

Cartographical production

Geoportal YUGRA
Cartographical production

Publishing activities

Conferences

Publishing activities
Conferences

Seminars

Seminars